Unfortunately, we weren't able to climb to the top of Mont Blanc as we experienced severe storms halfway up, and had to return. However, I learned a lot in that week. Not only about climbing and the mountains, but also about myself, and I want to share the most memorable moment with you all.
When we started to climb Mont Blanc it was very warm and I felt extremely uncomfortable as I too suffer from heat intolerance. And after ten minutes, I was last of our group. I felt so warm. I started to get dizzy and could barely breath. The distance between me, and the top two team members, got bigger and bigger and the struggle in my mind started. "I want to give up".  "Just stop, it's too warm". "You have MS you shouldn't be climbing". Most of us with MS will recognise these questions we ask ourselves in tough situations. I fought through it, though, ignored all of the negative self-talk and, thirty minutes into the hike, I noticed something building up, deep inside of me, and the weight on my chest got heavier and heavier.
All of a sudden it hit me, I couldn't bear this weight any longer and started to sob and cry for the first time in years! But, I remembered where I was 5 years ago, newly diagnosed with MS, and in a neurological rehab without feeling in my body, a right arm I couldn't use and sleeping eighteen hours a day – and now I was about to climb the highest peak in the Alps with a strong body despite living with MS! So 'thanks' MS. I'm pretty sure I wouldn't have done it without.
After this breakdown came to the break, through. I felt so much lighter and mentally even stronger. I could finally breath again and even caught up with the group! We arrived at the Tete Rousse hut (3.167m) in less than two hours, which means we were even faster than planned. That proved to me once more that it's worth it to fight. At the point where I was about to give up, that's where true magic happened. We might not have made it to the top of Mont Blanc, but I reached the top of my very own "mountain".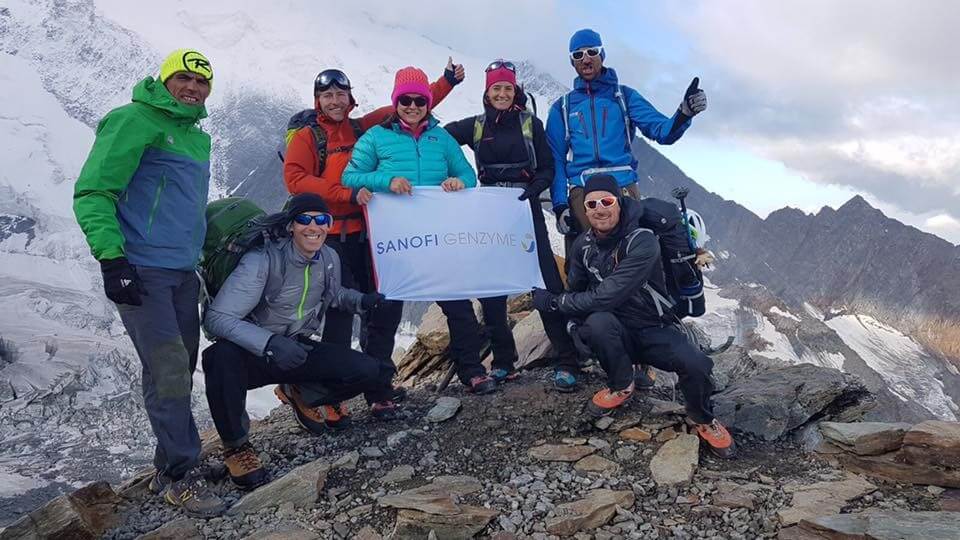 © Genzyme Europe B.V.
GZEMEA.MS.17.02.0053z
Approval date: August 2017